Fort Myers DJ Testimonials:
Recommended by Bridesmaid
All Request Music Man DJs and was recommended to me by one of my bridesmaids who had Eric DJ her wedding. She is very picky so I knew that it would be a great recommendation. Whenever I had questions, Eric promptly responded to my emails and phone calls. He has an amazing website that is easy to navigate. The event planning page is helpful as well as the playlist you can create. Eric is professional, a great DJ, and reasonably priced. We were on a budget but we were still able to have the music we wanted at our ceremony and reception. Thanks Eric and All Request Music Man Disc Jockeys!
Great Company
Absolutely a great company!! We worked with Eric and were very pleased. He was very professional and organized. I was so glad he knew what was going on that night, because if it was up to me, it wouldn't have gone so smoothly! Very affordable! He responded almost immediately to any concerns or questions I had. Being my first wedding and haven't attended many weddings, I didn't know what to expect or even know what to do. I was so glad Eric was there to help. Thanks again Eric!!!!
Easy to Work With
Eric did such an amazing job!!!!! Everyone was out on the dance floor all night long. He was so easy to work with. He returned my calls promptly and he even helped me pick some of the wedding songs including for the bouquet toss. He was very flexible. When I noticed that dinner was moving faster than expected, he immediately started the toast and dances. I could not have picked a better DJ. He was professional and funny, but most of all he made me feel very comfortable. Thanks to him my wedding day was stress free. Everything ran so smoothly!!!!! I would definitely recommend All Request
Music Man to anyone!!! Oh and of course his music selection was impeccable! He played a little bit of
everything for everyone!!!!
A Pleasure to Work With
Eric from All Request Music Disc Jockeys was a pleasure to work with. He had everyone on the dance floor the entire night. I never would have thought that our dance
floor could ever have been too small. He was also a fantastic MC. Our DJ made our wedding. I don't know what we would've done without him. We probably wouldn't have had so many of our guests comment on how much fun they had at our wedding.
Special Wedding Day
All Request Music Man was great and willing to work with us for all of our custom wedding needs! He helped make our wedding day very special.
Very Happy
I was very happy with this Fort Myers DJ vendor! Eric is very professional DJ and easy to communicate with.
Wonderful Job
Very professional and fun DJ for your venue! Eric did a wonderful job and even got people dancing who wouldn't normally dance! On time and excellent communication. Very nice set up. The event looked wonderful with his lighting! I would definitely recommend for any event. He went above and beyond to make our special day perfect.
Superior Service
In a time of unprecedented hurdles, All Request Entertainment provided superior service. Their willingness to be compassionate and flexible was sincerely appreciated. Throughout our adventure, we were provided with excellent communication with the DJ. Assembling our musical illustration was made stress free because of the user friendly website interface that they provide. My wife and I strongly recommend All Request Entertainment to anyone looking for a DJ for their Wedding or Special Event!
Amazing Time
DJ Eric from All Request Music provided such a fun and amazing time for our resident event. We would recommend his services for any type of event. We would provide more stars if possible. Sanibel Straits staff and residents thank you for a great time and can't wait to invite you back!
Incredibly Personable
Meeting Eric, we knew we made the best decision for our wedding. Eric is incredibly personable and has an obvious expertise in curating weddings that perfectly displays a couple and their relationship. It was no issue that we had specific custom songs for our ceremony and Eric brought life and laughter to our reception. The night was seamless, lively and was truly personalized to our taste. He even worked one-on-one with my father who had a very special request for our father daughter dance. Everyone talked about how they've never danced so much in their life! Thank you Eric for not just being a vendor at our wedding but being someone who we felt was another guest of ours! You made this night one that we will always remember.
What Makes Eric the Best:
Professional Disc Jockey in Florida since 1992
Professional musician from the age of 10 years old
Ongoing love for music and passion for entertaining
Extensive repertoire, including: Touring with numerous top 40 dance, country and rock and roll bands including the world renowned Coasters.
Entertained thousands of dance floors
Well versed in many categories of music!
Eric is one of the highest rated DJs, as well as highest rated in the state of Florida as a weding DJ and event DJ.
We work very hard for our brides and grooms to make sure that they have the best time of their lives.
20 years of experience and a passion for music is what makes All Request Music the most recommended wedding DJ in south Florida.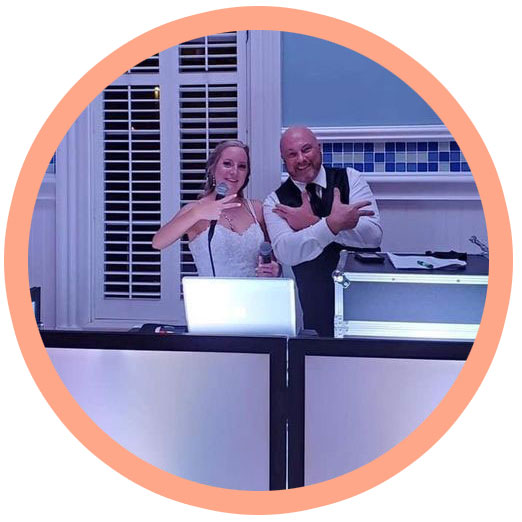 All Request Entertainment
P.O.Box 845
Estero, FL 33929

We are currently booking events for 2020 - 2023. Let's Talk About Your Event Now!


Monday: 9-6
Tuesday: 9-6
Wednesday: 9-6
Thursday: 9-6
Friday: 9-6
Saturday: 9-1
Sunday: Closed